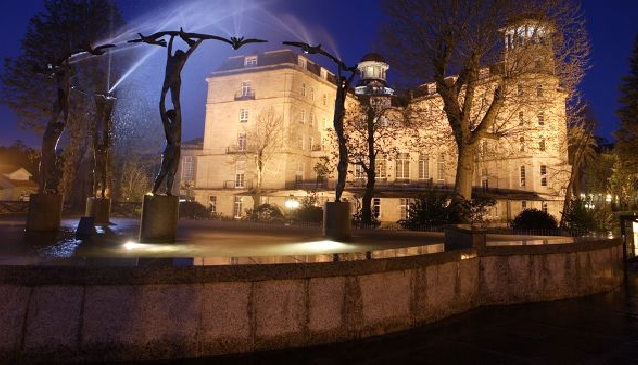 Balneario de Mondariz in Galicia
Retreats & Relaxation
Balneario de Mondariz was among those harnessing the healing qualities, forming a special spa
Hidden within the verdant Tea River Valley is Galicia's most historic spa. Ever since the physician Mr Domingo Blanco Lage discovered the medicinal properties of the natural springs of the Mondariz region, Galicia was put on the spa-destination map. Opened in 1873 the Mondariz Spa (Balneario de Mondraiz) was among those harnessing the healing qualities of these natural springs, forming a salubrious spa. With shimmering waters and therapeutic treatments it is little wonder that the Nobel Prize winner, José de Echegaray, exclaimed 'This is not a Spa: it is a Water Palace". (However you want to put it, wellness in Galicia doesn't get much better than this.)
And water palace it has become. In fact that is the very name of its central complex. As a thermal facility, the Palacio del Agua is an intertwining expanse of swimming pools, hydrotherapy pools, waterfalls, saunas and steam rooms. Focused on wellness, the spa's state of the art sports and fitness centre is a beautiful accompaniment to the hotel's healthy mantra.
So much more than just a spa however, the Mondariz complex has transformed into an indulgent four-star resort known as Balneario de Mondariz. With modern amenities and soft furnishings in the luxurious rooms, the relaxing ambience of this spa resort radiates throughout. While adults may unwind in the homely comforts of their rooms however, children can enjoy their leisure time in the hotel's activity room.
As if therapeutic waters and sumptuous suites weren't indulgent enough, the spa-hotel boasts its own championship golf course and award winning restaurant. After 18-holes on the luscious golf course, you may find the delicious menu of the day calling out to you, (and at just 12 euros, how can you not be tempted?!)
If you want to explore more of Galicia's gorgeous countryside, a walk in the local woodlands and along the River Tea may interest you. What could be a more relaxing end to your spa-soaked day than a leisurely stroll along the river?