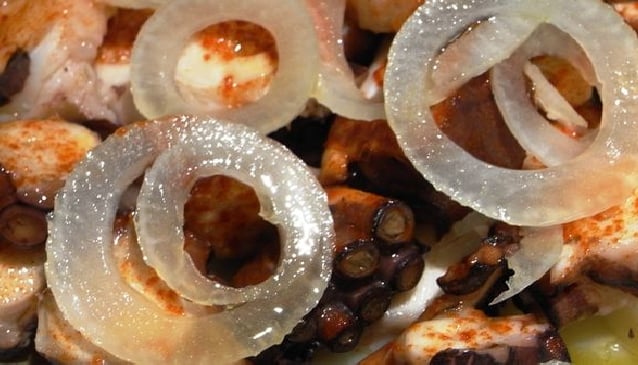 Lugo - The Gastronomic Capital of Galicia
Food & Drink
Don't stop tasting Lugo
One of the most well-known sayings in Galicia is: "to eat, Lugo". This is a guide to help you find the very best restaurants in Galicia, particularly within the walls of Lugo, which exemplify this popular saying.
Among the most famous restaurants of Lugo, inside the Roman walls and with more than a hundred years of tradition, we find El España. The chef, Héctor López, now manages the family business after his apprenticeship period with the famous Spanish cook Pedro Subijana. It has a state-of-the-art wine cellar and a rural pantry, with food both of mountain and of coast, but with innovative recipes .The restaurant's menu offers an attractive selection of starters, rice based dishes, fish, meat and seafood. It also has a tasting menu with first courses like "tuna's carpaccio" or "grilled octopus with mashed potatoes and air of La Vera" and for dessert: "creamy cheese with honey gelatin and crushed apple ice cream", ideal for those with a sweet tooth.
Mesón de Alberto is equally well-known and is located in the historical heart of Lugo, in a traditional stone house in Calle de Cruz. With a decoration based on stone and wood the kitchen doesn't lose the origins of the earth, and the customer service shown by the family García Fernández, both in the kitchen and in the dining rooms, makes it easy to enjoy dining in great comfort. They also own Jorge 1, a 4-star hotel and a great example of accommodation in Galacia, ideal to make your temporary home if you are going to be based in Lugo.
With more than sixty years of tradition, in the middle of the old part of town, Campos is one of the classiest gourmet restaurants in Galicia. Its wine list covers the majority of Galician wine like Valdeorras, Ribeiro or Ribeira Sacra, as well as a profusion of renowned Spanish wines. In the menu you can sample monkfish, grouper, sole or turbot; meat like sirloin, tournedot Rossini, entrecôte, or "caramelized lamb chops in soya sauce, sautéed vegetables and wild rice". It has a variety of seafood like: crayfish, crabs, clams or goose barnacle recipes. All of this takes place in a sophisticated atmosphere, with pictures of Galician artists adorning the walls.
El Verruga is also an iconic Galicia seafood restaurant inside the city of Lugo due to the quality of its fresh products personally purchased and selected in the fish markets of Ribadeo or Foz. Although it opened in 1951 as a modest family tavern, nowadays it figures in the national gastronomical association: "Restaurantes de Buena Mesa". It organizes gastronomic journeys with guest cooks and seasonal products in the purest traditional style. In February, for example, they cook spider crab and lobster both at the peak of their biological cycle and for a good price. During the hunting season hare and partridge are also available, as well as young eels or tuna.
On the outskirts of the city, two classical restuarants with a rural atmosphere are recommended: Casa Grande de Nadela and Terras do Miño. The latter, next to the river Rato, is very attractive due to its natural environment. After having a meal you can walk by the riverside next to the river Miño. The views are very beautiful and it's very popular with Lugo´s people. With regard to the menu, there are tasting menus available with starters as appetizing as "ham toasts with local cheese" or "octopus in vinaigrette". Between other dishes, we can find grilled trout or beef cheeks. Desserts are home-made: "tocinillo of the sky", "grandmother's cake", "Cebreiro's cheese with honey and filloas", a kind of crêpes, typical of Galicia cuisine.
To close the gastronomic route, Casa Grande de Nadela is well-known for its excellent suckling pig and milk-fed lamb, roast in traditional style in a wood-fired oven. This old restored farm preserves original and centenarian materials like the well and an oven of rock. Besides, it offers ten rooms to stay in and an extensive Galician wine list. Among other dishes, we can find: "crunchy sea scallopspie", "filloa filled with seafood with Cebreiro's cheese sauce", "soggy rice with lobster" or "codfish with rice from Calasparra". Among the desserts, there stands out the "cold rice pudding with orange and mango".