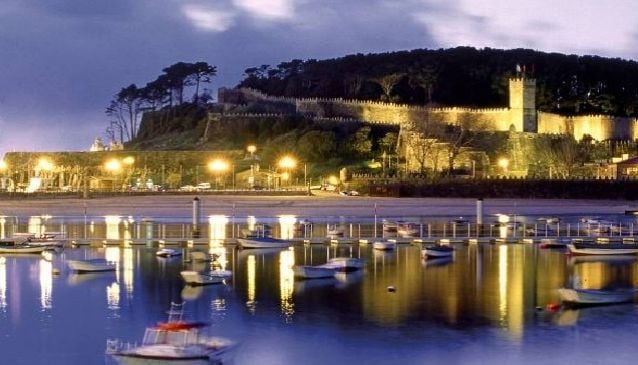 Finding Dream Real Estate in Galicia
Inspiration
Rustic countryside ruins ripe for restoration or luxurious urban villas
There has never been a better time to buy or rent property in the beautiful region of Galicia in northwest Spain. Prices have fallen dramatically in recent years, but they will not stay that way, so it's a good time to buy/rent with low interest rates and rising worldwide markets. There is an abundance of opportunities, ranging from rustic countryside ruins ripe for restoration to luxurious urban villas complete with swimming pools.
Here at My Guide Galicia, our expert local knowledge goes well beyond the normal categories of good restaurants and interesting things to do, so we've gone to the trouble of rounding up the very best property deals in the region – to buy and to rent – for your perusal. In this article you can find some of the best Galicia real estate currently on the market.
Buy
Monteferro
Situated near the stunning seaside resort of Baiona, this five bedroom house, which comes with extensive gardens, a private beach and a swimming pool, enjoys a prime position directly opposite the Bay of Baiona. The views from the sea-facing balconies are stunning and all services and facilities can be found in the nearby municipality of Nigran.
Price: Negotiable
If it's a project you seek as well as a bargain, this semi-derelict 180 square-metre farmhouse, located in the verdant hills just outside the pretty town of Oia, could be the perfect choice. Although the area is tranquil and unspoilt, there are other properties close by, so you won't have the worry of being completely isolated.
Price: €75,000 or nearest offer
O Rosal
For the best of both worlds, this newly restored farmhouse in O Rosal which is in Galicia's Pontevedra province is stunningly picturesque. It strikes the perfect balance between cosiness and spaciousness, with three bedrooms, three bathrooms, a living room, terrace and even a garage. It is set in the heart of a quaint village of similarly rustic dwellings, and sits on the banks of a shallow river, with great views of the same.
SOLD €190,000
Rent
Situated in one of the best areas of Baiona, this luxury apartment sits atop a hill and offers incredible views of Baiona's harbour, and beyond that, the Atlantic stretching into the horizon. It is suitable for families, couples and singles alike, and facilities include a large outdoor swimming pool surrounded by landscaped gardens and a secure underground car park.
Price in Peak Season: €650-750 per week
Situated in La Guardia Apartmentos Marouco comprise of 13 apartments completely equipped, with kitchen, hall, one or two bedrooms and bathroom. Four of them are double rooms and to differentiate their atmospheres the layout has created independence between the living area, (kitchen, living room and bathroom) and the bedroom. In addition, staying in the apartments it is possible to enjoy all of our services including the swimming pool, landscaped zones, garage, etc… at a time that maintains your freedom and privacy. There is also a rustic house totally restored for rent. Divided in two floors, with 5 rooms, it has a kitchen and living room.
Prices start at €60 per night
Casa Ameirós Holiday Apartments
Situated in the heart of the Rías Baixas (which form part of the stunning Costa del Marisco) in a quaint village, these apartments can accommodate four to six people and offer living rooms, kitchens and balconies with wonderful sea views. The picturesque fishing village of O Grove is just four kilometres away, and if you make it over there we highly recommend the restaurant Culler de Pau.
Price: Low season - €43 double room; €60 single room. High season - €75 double room; €130 single room. Prices include breakfast, but not VAT.
There are many more excellent value properties to buy and rent in Galicia, and by teaming up with experienced and reputable local agents, including Quasar Homes,Galicia Vista, One Off Places and Galicia Holidays, we are able to offer you the very best of the best.
We also colloborate with the best national and international agents who sell property in Galicia including Prime Location and Rightmove. You can also search for properties to rent on Turgalicia's website.
For the more adventurous there are even a range of opportunities to buy a whole village/hamlet at unbelievable prices from Aldeas Abandonadas.