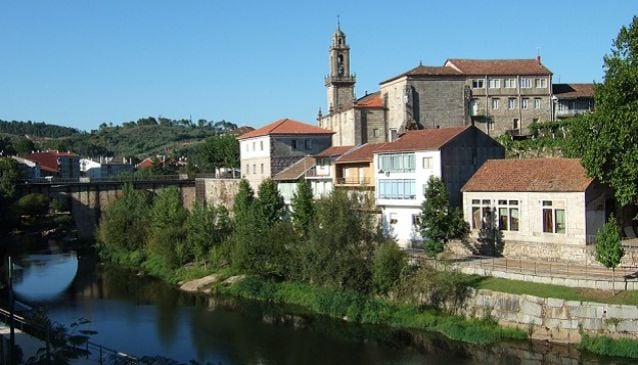 Exploring Ribadavia- the land of Ribeiro Wine
Arts & Culture
The real joy of Ribadavia lies in wandering through its cobbled streets
Ribadavia, in the province of Ourense, is a small town about three quarters of an hour´s drive inland from Vigo . If you're looking to taste some of the wines of Galicia, this is the place to visit. Lying in a valley at the confluence of two rivers amidst beautiful green hills, it´s the capital of Galicia´s longest established wine growing area, the Ribeiro. Its medieval quarter, which was declared a national monument more than 60 years ago, is a very well-preserved example of the cultural and architectural heritage of this ancient region. By all means walk round the remains of the fortified castle and take a look at the churches, some of which date back to the 12th century. However, the real joy of Ribadavia lies in wandering through its cobbled streets, discovering hidden architectural gems, or sitting in its Plaza Mayor, sipping one of the dozens of local wines on sale and watching the locals get together twelve at a time in their family groups.
The Ribeiro is known throughout Spain for its dry white wine which is regarded as the perfect accompaniment for shell fish. There are vineyards everywhere of all shapes and sizes; in addition to the wine marketed commercially, locals produce it for themselves, serving it in lemonade bottles to family and visitors! Many of the commercial 'bodegas', or wine cellars like Pazo Lodeiro or Pazo Casanova provide tours as well as opportunities to taste and purchase their products. Scattered amongst the hills are ancient wine villages which retain much of their traditional architecture of 'pazos', which are country mansions belonging to noble families, churches and stone crosses – all clothed in the honey-coloured local granite.
The area offers many opportunities for hiking. You can walk along the banks of rivers running through rocky gorges, bathing in their crystal clear waters. Alternatively, venture higher up into the hills and mountains to follow way marked paths through forests of native oak, chestnut and pine and, admire spectacular views of the valleys. Companies that offer organised walking or other activities are just beginning to appear here.
Like many other parts of inland Galicia, Ribadavia remains relatively undiscovered by international visitors although around twenty five thousand Spaniards call in or visit on day trips each year. The town is a working town, not a tourist destination proper, but has all the service you are likely to need, including countless bars and restaurants, many with free wi-fi, banks and supermarkets. Accommodation available includes simple guest houses or hotels, self-catering flats in the old quarter and 'casas rurales' in neighbouring villages. As the name of the latter suggests these are country houses, many of which are lovingly restored ancient pazos - a few are also working bodegas! For somewhere really special to stay, the Monastery San Clodio in Leiro is a good option. You don´t need the Galician language (Gallego) to survive here, but a few words of Spanish or a phrase book would certainly help. Many of the locals don´t speak English, although their children are all learning it in school.
It´s best to visit the area by car so that you can explore the countryside at your leisure. Hire cars can be picked up cheaply at the airports of Porto, in Portugal, Vigo or Santiago de Compostela, all of which have regular flights from the UK. The wines of the Ribeiro have been receiving increasing coverage lately as a result of many international awards, so don´t wait too long before exploring this completely unspoilt corner of Galicia.