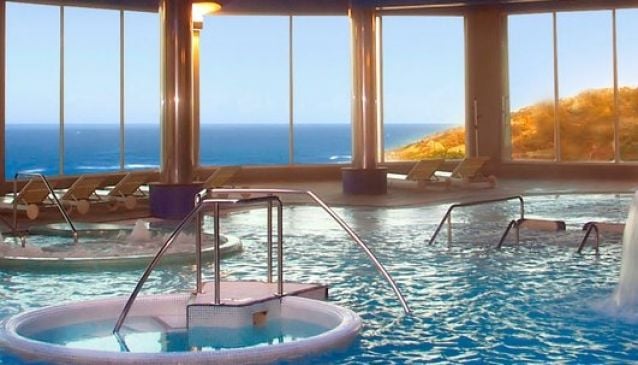 The Best Spas in Galicia
Family Fun
Among Galicia's many hidden delights are its famous therapeutic spring and sea water spas.
Among Galicia's many hidden delights are its famous
therapeutic spring and sea water spas.
With hundreds of natural geothermal springs and, of course, the Atlantic Ocean and Bay of Biscay, the Galician people have been given the perfect natural environment to perfect the ultimate spa experience.
Many of Galicia's spas were originally established by the Romans, who relished bathing and medicinal water treatments and recognised that the region's spring waters were rich in important minerals. During the renaissance in water therapies in the late 1800s, Galicia's historic spa centres were revitalised and, nowadays, 21st century spas are the places to visit for those wishing for a spot of pampering and an escape from the rush and stress of modern life.
In fact Galicia is one of the richest of all the european regions in terms of its mineral waters and thermal spas with 10 natural bottled mineral water plants including
Aguas de Mondariz
and 21 spas, 18 of which belong to the
Association of Galician Spas
.
Galicia's numerous spas cater for all ages, tastes and budgets and can provide a much-needed oasis of calm and revitalisation, for an hour, a day, a week or longer.
The practice of thalassotherapy - the therapeutic use of seawater, the seashore climate and natural marine products such as seaweed - is thriving on the Galician coasts. Hotels and dedicated spas, such as
Talaso Atlantico
, near Baiona, or
Termaria, Casa del Agua, La Coruña,
offer seawater pools, steam rooms, saunas, treatment areas and gyms along with top class restaurants and bars in beautiful settings. Whether you want to experience total relaxation, get fit or combat pain and discomfort, Galician seawater spas can provide the answer.
Inland, around the city of Ourense - or the City of Water as it is known for its abundance of geothermal springs - the spas are renowned for their mineral-rich waters and calming natural surroundings. Among the many high quality spas, Termas Chavasqueira offers all the ancient knowledge and Zen philosophy of the east with their Japanese-inspired rock pools, saunas and massage treatments. And then there are the stunning hot-spring pools at
Termas Outariz
overlooking the River Mino.
Last but not least, in the south of Galicia, near the border with Portugal, the historic
Balneario de Mondariz
, a four-star 'Water Palace' dating from the 1800s. Built around natural therapeutic springs, Mondariz is now thoroughly 21st century with its impressive complex of pools, treatment salons, gym and relaxation areas, topped off with fantastic food from a world-class chef and beautiful landscaped gardens. One delicious oasis out of many, just waiting to be discovered.